5 Fiber Termination Box Knowledge You Must Know
Driven by requirements for high-speed data rate, the deployment of fiber optic has been growing. As the growth of installed fiber optic, the management of optical transmission networks becomes more difficult. Many factors should be considered during fiber optic cabling, like flexibility, future viability, cost of deployment and management, etc. To handle large amounts of fiber optic with lower cost and higher flexibility, various fiber optic terminal boxes are being widely used to the connector and schedule optical fiber.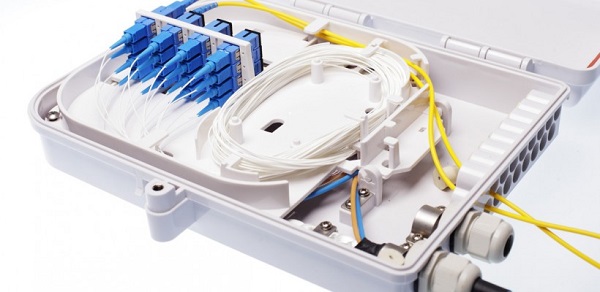 Fiber Optic Termination Box (FTB), or Optical Termination Box (OTB), is a fiber management product used to distribute and protect fiber links in FTTH networks. Due to its compact size and small size, it is also considered a mini version of a fiber distribution frame or optical distribution frame (ODF). The number of ports in the fiber optic terminal box ranges from 8 ports to 96 ports, so you can choose the right box for your cable needs.
A fiber optic terminal box is a terminal connector for a fiber optic cable, one end being a fiber optic cable and the other being the tail of the fiber optic cable. This is equivalent to a user cable termination box, which requires splitting the cable into a single fiber optic device and then mounting the device on a wall. Its function is to provide the fusion between different fibers, the fusion of fiber and fiber tail and the transmission of fiber connectors. It also provides mechanical protection and environmental protection for fiber optics and their components, and allows for proper inspection to maintain the highest standards of fiber management.
The fiber optic terminal box contains the housing, internal components (support frame, fixed fiber tray, fixture) and fiber optic connector protection components. In fiber optic terminal boxes, insulation is always required between the cable metal components and the cable junction box housing to provide storage space for the cable terminals and the remaining fiber. DOWELL is a company specializing in fiber terminal box. It has many years of service experience.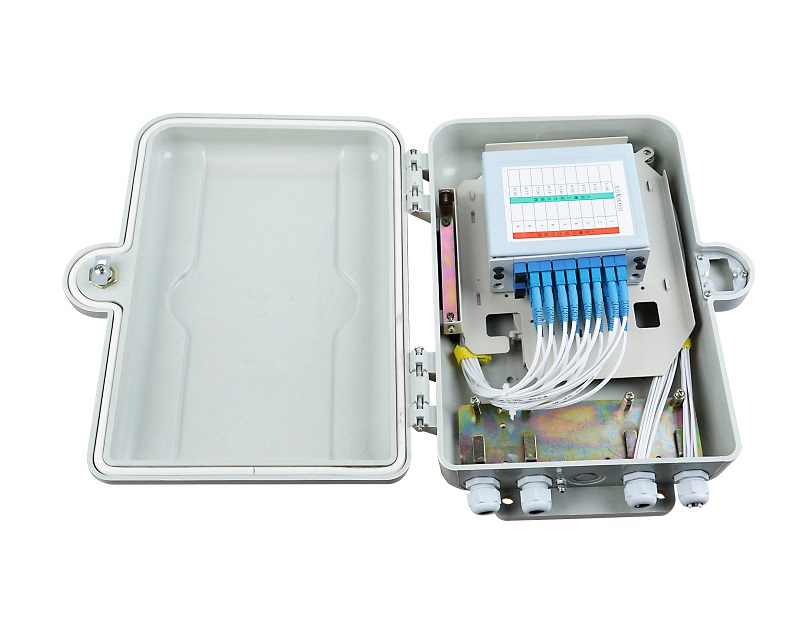 Types
According to different designs, fiber optic terminal boxes can be divided into wall-mounted and rack-mounted.
The wall-mounted fiber optic terminal box is designed for pre-connected cables, field mounting of connectors or field bonding of pigtails. They provide an ideal solution for building entry terminals, telecommunications cabinets, primary cross-connects, computer rooms, and other controlled environments.
The wall-mounted cable terminal box is used for direct connection and bifurcated connection of indoor optical cables. It is used as joint protection for fiber and storage for fiber tails. It has a capacity of approximately 4 to 8 cores and is suitable for both ribbon and non-strip cables.
The 4- and 8-core models of the wall-mounted fiber optic terminal box are ST, SC, and FC.
The rack-mount fiber optic terminal box is designed for cross-connect and interconnect architecture. The architecture has an interface between the external device cable and the transport device. The boxing device provides space for fiber fusion, distribution, termination, patching, storage, and management.
The 12- and 24-core models of the rack-mount fiber optic terminal box are: ST, SC, FC.
Wall-mounted fiber optic terminal boxes are available in both indoor and outdoor types. This is categorized according to the installation site.
As a transition point between the riser and the horizontal cable, the indoor wall-mounted fiber optic terminal box provides the operator with the best flexibility. It is used as a storage location for extending and terminating fibers, or as a connection point for splicing fibers. In addition, the indoor FTB provides room for ultra-long and terminated fiber and fiber fusion.
The outdoor fiber optic terminal box is an environmentally sealed enclosure for distributing the fibers of the FTTX network. Outdoor wall-mounted fiber optic terminal boxes are also used for fiber fusion, terminal, and cable management. However, the outer casing is usually sealed to protect the cable from environmental damage from the FTTH network.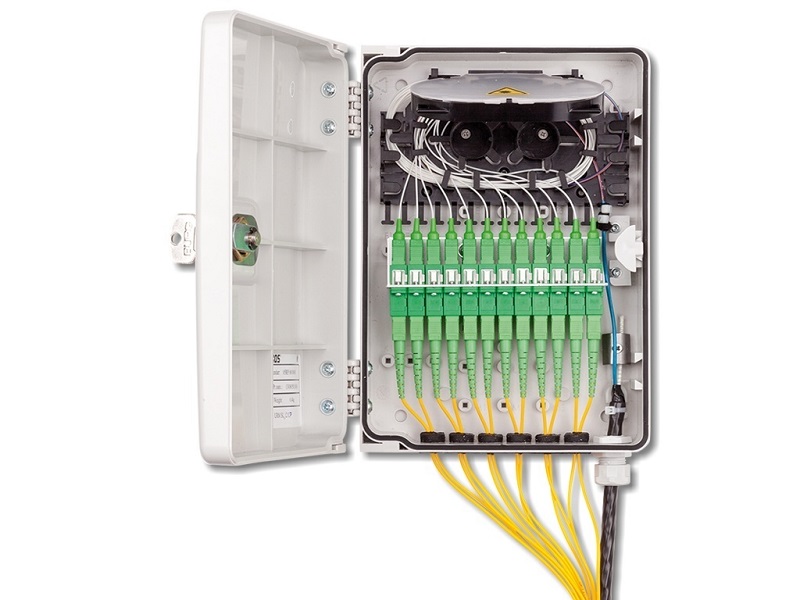 Splitting, splicing, and termination can be done in a small area of fiber splitter boxes for indoor and outdoor use. The fiber splitter box is the best solution for network deployment in client applications. It can be used to distribute the cable after installing the splitter, or it can be pulled out by direct or cross-connect. The standard plug and play dispenser is especially suitable for use in the box.
The fiber optic distribution box is a branch splice closure for the distribution cables in the FTTX network. It is widely used in airborne OSP networks, exterior attachments for mid- to low-rise MDU buildings, and central riser closets or stairwell attachments for mid-rise to high-rise MDUs. It is a faster and easier solution than traditional OSP closure.
The outstanding advantages of fiber optic terminal boxes are effective cable fixing, soldering and their protection in fiber optic machinery.

The fiber optic terminal box is easy to access, thus facilitating installation in different situations, saving time and cost.

It provides a protective connection for fiber optic cables and fiber tails.

It insulates the metal components of the cable from the form of the cable jacket so that the ground wire can be easily guided.

It provides placement and storage space for fiber optic cable terminals for easy installation.

It has sufficient impact strength and is fixed by a fixed box. Therefore, it is easy to install on different occasions.

There are many installation methods. You can choose to mount it on a wall or directly in a slot.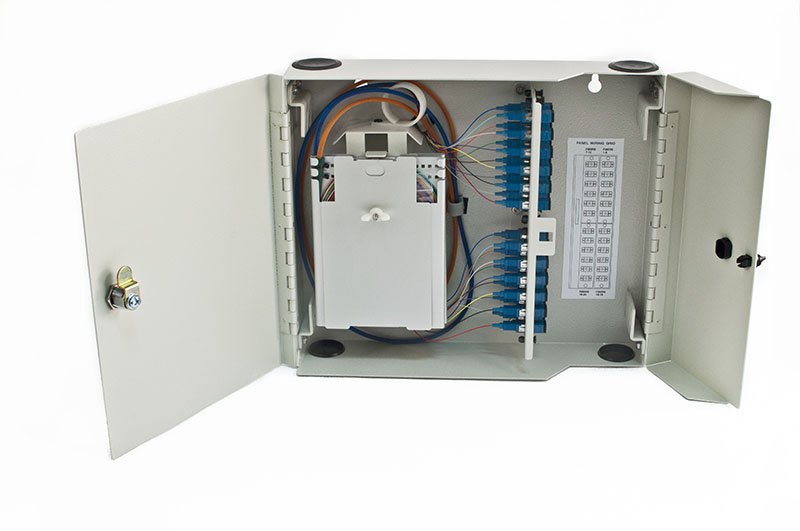 Both indoor and outdoor wall-mounted FTB and rack-mounted FTB are widely used in optical communication infrastructure.
Fiber optic terminal boxes are commonly used in telephone, agricultural telephone network systems, data and image transmission systems, CATV cable TV series, indoor cables through mandatory access and branch connections. The fiber optic terminal box can be used for the distribution and terminal connection of various fiber systems and is particularly suitable for micro-network terminal allocation, in which the optical cable and the jumper core are connected. In addition, fiber optic terminal boxes can be used to connect fiber pigtails, protect fiber connectors and share connections to individual customers.
Sometimes, due to the similar internal structure, people may mix fiber optic terminal boxes with fiber splice trays. Fiber optic terminal boxes are commonly used as terminal connectors to splicing a single cable into multiple fiber optic cables that have connectors at one end and no connectors at the other end. Sometimes, the fiber splice tray is located within the fiber optic terminal box to accommodate the fused fiber. However, it can also be used alone to protect the welded fibers. Therefore, the two devices are not interchangeable.
In summary, fiber optic terminal boxes are important devices for protecting and distributing fiber links. The use of fiber optic terminal boxes greatly reduces the pressure on cable management in FTTH networks. DOWELL is a company specializing in fiber terminal box. If you have any needs, please contact us.